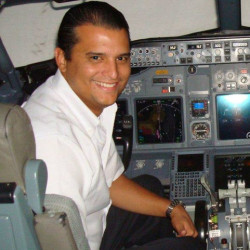 EMAIL:
rbarcenas@galeria1.com
PHONE:
+507 6675-8241
Capt. Rafael Bárcenas
Panama Representative
-BSBA The American University Washington DC
-MBA University of Louisville
-Owner/Operator Helicópteros Personales S.A. (Panamá)
-ATP Fixed Wing with ratings in B737, EMB145, BE300, BAE3100, C500, C650 and LR60.
-Commercial Pilot Helicopter (EC130, EC120, B206L and R44).
-20 years experience as operator/owner of fixed wing piston, turboprops, helicopters and jets. Very experienced on maintenance of Citation 500 series and Beech King Air 90 series.